More on the GOP/Hip-Hop Alliance
Davey D has the scoop on just how deep this thing goes: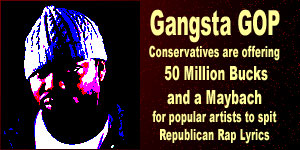 Gangsta GOP: Conservatives Set to Pay Rappers Like McDonalds

Coming at the heels of the recent announcement by marketing firm Maven Strategies to pay popular rap artist to spit lyrics about the virtues of McDonalds, in particular the Big Mac sandwich, other marketing firms have taken note. It has become glaringly obvious to Fortune 500 companies and Madison Avenue advertising agencies that the best way to sell a product is to employ the rhyming services of Hip Hop artists.

The successful marketing campaign behind Seagrams Gin via North Carolina artist Petey Pablo who drove sales through the roof after he rapped about it in his song 'Freek-A-Leak' has helped open the flood gates. That particular song was played a whooping 350 thousand times last year on commercial radio outlets and reached closed to 1.5 billion people (yes you read that correctly- 1.5 billion) world wide with its enticing message. That's far better marketing penetration then anyone could hope for with traditional advertising.

Enter the Tokeback Institute out of Resslin, Virginia. This is an ultra conservative marketing firm that specializes in mainstreaming right wing values that are being championed by the current Bush administration. They pride themselves on being the marketing gurus behind getting Americans to buy into the policies supporting the War in Iraq as well as the new love and desire for 'High Morals'.

The secretive conservative institute now has set its sights on Hip Hop. They not only want to, but fully intend to follow in the footsteps of McDonalds and Seagrams Gin and will began paying popular rap artists as much as a million dollars plus bonuses to rap about conservative policies. It's called political product placement...

Posted by jsmooth995 at April 1, 2005 3:02 PM