Is Miley Cyrus Pregnant?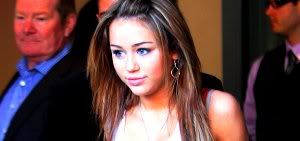 Is gullible in the dictionary? Can I offer you a sweet deal on buying the Brooklyn Bridge?
Is Miley Cyrus Pregnant?
source

"Miley Cyrus pregnant? Is Miley Cyrus three months pregnant for on and off boyfriend Nick Jonas? The answer is no, Miley Cyrus is not pregnant but she is dating the youngest of the Jonas Brothers.So if you receive the following e-mail just dismiss it because it is false."

A rumor has been spreading by email, far and wide, that Miley Cyrus is pregnant. The email states that Miley Cyrus is 3 months pregnant by her ex-boyfriend Nick Jonas, of the Jonas Brothers.

At least this pregnanct rumor is better than the many rumors of celebrity deaths that became an epidemic disease on the internet after Michael died. Miley Cyrus can survive the pregnancy rumor just fine.

Is Miley Cyrus Pregnant?

Posted at July 6, 2009 4:33 AM